Description
Whether you dunk your go-to disc or get it stuck in a tree, the Prodigy Disc Retriever is here to help. Choose between a 10-foot or 14-foot telescopic stainless steel pole, which makes it easy to reach those tough spots on the course and to store away when not in use. Each retriever comes with two additional attachments to help with even the toughest situations. Let the Prodigy Disc Retriever do the dirty work to keep your feet dry and put your favorite discs back in your bag.

LEARN MORE ABOUT THE PRODIGY DISC RETRIEVER
Weight: 0.6 lbs (10'); 1.0 lb (14')

Easy to carry, use, and store
Telescopic stainless steel pole
Three separate attachments for different situations
Life Saver for Discs
This is a handy tool at a reasonable price. It's easy to carry, easy to use, easy to switch heads depending on the need of the moment. I will say that the attachments (especially the largest one) can come loose if not tightened firmly and frequently during use (e.g., while fishing a disc out of water). A click-in-place mechanism (similar to many tools like power screwdrivers or air compressors) rather than a screw mechanism could be a possible improvement for future models.
Love my new disc retriever
Much much better retriever than my first one (a different brand that broke after only a few uses?!?). I like that it has multiple attachments for different uses to retrieve my errant thrown discs. Highly recommended
Useful around house too!
I use this thing for many odd jobs around the house. Putting ant traps in tight corners. Getting things from under my bed. And oh yeah, getting discs out of water and trees on the course too. I only use the hooked tip. It's all I need. It can get loose sometimes so I put some Locktite on the screw threads to keep it locked in place. Awesome retriever!
Great little disc retriever
This retriever is small enough fit in your bag and extends long enough to reach way back in the weeds and poison ivy to save your disc. One or two disc saves pays for the retriever. I will not be playing without it.
head shape is moronic
Well, when you're trying to get a disc out of the water you're reaching down from above. The slot is so small but the problem is the way the wire bends out that prevents you from actually being able to get the disc in the slot. Did you even test this before you sent a order for 5,000 to Hong Kong?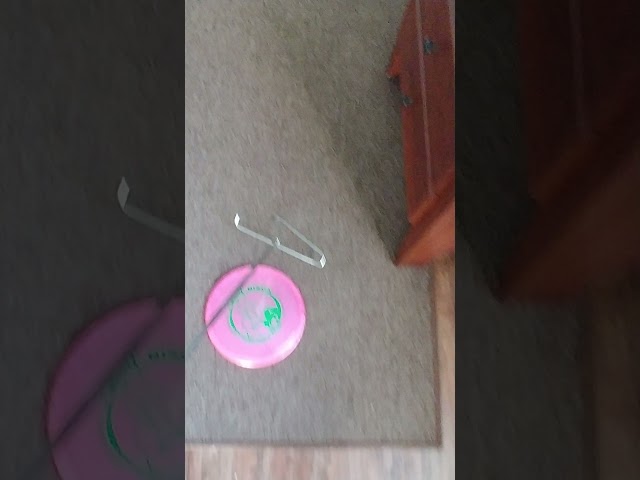 Not happy
Wasn't thrilled with this. The head spins constantly no matter what attachment I put on the top. I have to be super careful when trying to actually use it as it's seems so flimsy. I've taped the top so it stays on and am working on a fix so it stops spinning so much. I do like how lightweight and compact it is but that's probably why it's so flimsy
Great Retriever!
Just finished a tournament that played over and around a lake, water on almost every hole, and a ton of brambles lining the fairways. Being able to switch out the heads from water-scooper to bush-poker was extremely handy. Saved a lot of peoples bacon!
Retriever
Purchased the 10 foot version. Very pleased and have used it several times. Nut that holds multiple end pieces on does tend to loosen up. Had to buy a small wrench to carry with the retriever.
Breaks right away!
Bought this and was so excited to use it. After three uses it broke open & can no longer be used. Absolutely terrible purchase!